​Welcome to PJ Rubal's Vintage Spector Collection!
---
"Stuart Spector may be the heart of Spector but PJ Rubal was certainly its soul! I have known PJ for over 20 years and the man has infinite knowledge of Spector basses as well as many other fine brands. PJ is a total professional and very accessible; I respect his views as both a player and a collector."
Bob Hynosky
from
The Bass Palace
---
On these pages, I'm excited to share with you my collection of Spector basses and electric guitars, memorabilia, and more!
Due to its layout and content, this site is best viewed on a desktop computer, laptop, or tablet...not on a phone.
Soon after switching to playing Spector basses in 1987, I met Stuart Spector and started what would become a lifelong friendship. One of the results of our friendship was our co-owning and operating the "SSD" Stuart Spector Design company spanning three decades from the 1990s thru 2018.
In late 2018, Stuart and I sold our company to our friends at Korg USA. We are no longer involved with the Spector company and continue to wish them the very best with the Spector brand.
​
Thank you for all of your Spector love and support during the Stuart & PJ era!
​
Collecting and playing Spector basses and electric guitars has brought me a family of friends, a career spanning four decades, and a lifetime of adventures and memories. Thru this website, I hope to share some of that joy with you.
I will be adding more content on a regular basis,
from my personal collection of nearly 100 Spector instruments, many never-before-released behind-the scenes photos and stories from my unique Spector perspective since the 1980s, plus some bonus content from a few of my friends.
​
Each week I connect with friends and players around the world looking to purchase or sell used Spector USA instruments. Be sure to email me for info about your older USA instrument, or for my assistance in buying or selling a used USA-made Spector.
Also, please keep me in mind when considering selling your older USA-made Spector instrument, as I am always looking to add to my collection.
​
Unless otherwise noted, I have personally scanned all of the brochures and photographed the instruments on this site from my personal collection and archives, for your enjoyment.
---
Email Vintage Spector
---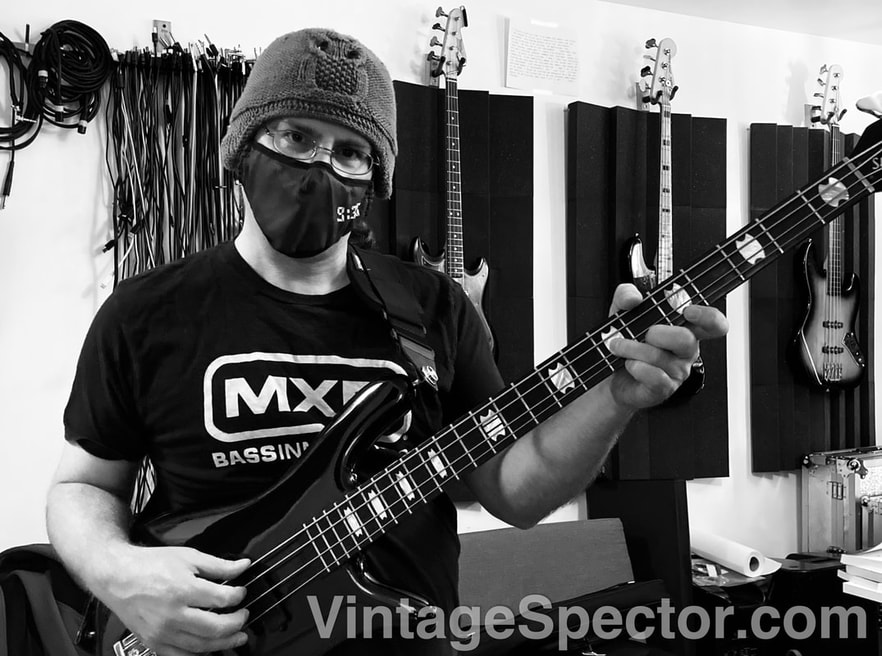 March 2021 : in the studio with Brooklyn Era NS-2 #603
---
Live with my 'famous' Brooklyn era NS-2 #603, circa late 1988 - 1991
---
---